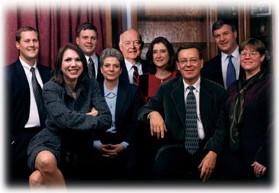 Founded on a principle, driven by the pursuit of excellence
The founding partners of Cheiron had previously been senior leaders in a large national actuarial consulting firm. They objected strenuously to that firm's practice of forcing clients to accept caps on its liability for errors.
Cheiron's founders posed a fundamental question to their former employer: Why should an otherwise respectable firm demonstrate so little faith in the quality of its own work and shift risk to its clients, when the purpose of its very existence is to help clients manage and mitigate risk? Finding no satisfactory answer, Cheiron's founders put their financial lives on the line and launched the firm in 2002.
Cheiron is named for the famous superlative centaur from Greek mythology who was educated by Apollo and Artemis, then spread his advanced knowledge, becoming a mentor and trainer of heroes.
The strong professional reputation of Cheiron's founders, combined with its bold stand against liability limitations, led quickly to the acquisition of several large retirement and health systems that remain clients to this day.
As Cheiron's reputation for integrity, advanced technology, responsiveness, and client empowerment grew, so did its client base. Cheiron's professional staff grew as well, to include many seasoned actuaries recruited from larger firms who preferred Cheiron's guiding principles and unbureaucratic work environment. From humble beginnings with a professional staff of nine and a single office, Cheiron has expanded to eight offices nationwide, nineteen partners and a credentialed consulting staff exceeding 65.
Looking forward
Cheiron has advanced since 2002, both in its growth and its ongoing development of new technology solutions and plan designs to assist clients. Our goal is not growth for its own sake, but as a means to sustain the depth of resources required by clients whose needs are great. Cheiron will continue to grow and evolve in the way that will best enable us to continue satisfying our clients' needs.
We believe the forces that have challenged many pension and health plans in recent years, including financial market volatility, an economy struggling to regain its former vigor, funding issues, rising healthcare costs, regulatory uncertainty and the ongoing unfolding of the Affordable Care Act, will be with us for years to come. But Cheiron, rooted in its founding principle of putting clients' interests above all, will also be present and ready to help you manage those challenges.