WANTED: CREATIVE, INDEPENDENT AND TECHNICALLY SKILLED ACTUARIAL TALENT
If you are described by that list, we want to talk to you - Apply Here. Your inquiry will be held in the strictest confidence. We look forward to hearing from you.
Where creativity and initiative are rewarded in an engaging professional environment.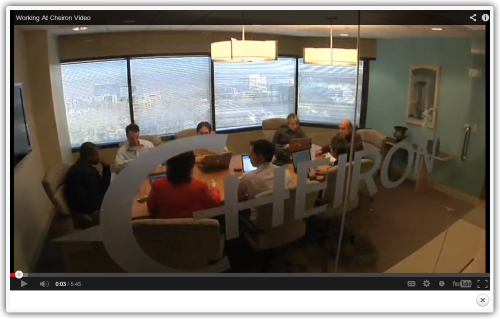 View our video
We have created and are building a new kind of actuarial consultancy, and need more talent to maintain our growth. Our client base consists primarily of large pension and welfare plans. Cheiron has career positions for the right kind of people at all skill levels — from senior consultants to recent graduates. Our ongoing national expansion has created opportunities at our headquarters in the Washington, DC metropolitan area, as well as at other U.S. locations.
Who works at Cheiron?

Cheiron attracts top actuarial talent.

How?

By providing the kind of challenges and development opportunities that creative, goal-oriented actuarial consultants -- as well as younger professionals who seek to attain that level of career achievement and responsibility -- thrive in. Here we introduce you to a cross-section of younger members of Cheiron's professional staff.
Our growth stems from our strong reputation and client demand for our unique services, including our P-scan and H-scan modeling tools.
Our projects are highly sophisticated and challenging, requiring innovative solutions. Our clients often hire us because other firms cannot provide the specialized services we offer. Therefore, we are looking for people who:
Work hard and enjoy a challenge
Cheiron consultants are often called in to help clients address significant financial issues where other actuarial firms have failed.
Like to innovate and create new solutions
We are known for bringing a fresh perspective and original thinking to classic and modern problems.
Seek an informal work atmosphere and corporate structure
The collegial climate in our offices fosters collaboration and problem-solving; not bureaucracy.
Deal with clients pro-actively
We take charge of addressing client needs, often before they are even recognized by clients.
Enjoy applying advanced computer skills
Our consultants frequently develop new technology-based solutions instead of relying exclusively on "off-the-shelf" software.
Always abide by the highest ethical standards
Cheiron was created to raise the bar on putting clients' interests first.