ABOUT CHEIRON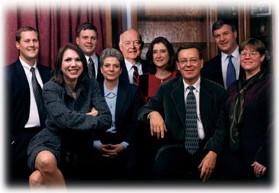 Cheiron's founding partners, pictured in 2002. The late Bennett H. Shaver, shown in the center rear, most recently held the title of Chairman Emeritus.
Cheiron is an employee-owned, full-service actuarial and financial consultancy, advising a national client base of public employers, Taft-Hartley plans, non-profits, and corporations, from offices nationwide. Our primary focus is pensions and health plans.
Our mission is — and always has been — to empower benefit plan sponsors to understand and better manage their benefit programs and their resulting financial risks through innovative technological applications and unsurpassed professional expertise.
At the heart our process is our people and a sophisticated proprietary modeling product line called X-scan. Also, we take pride in having played a key role in pioneering and advancing flexible pension designs, particularly the Adjustable Pension Plan (APP) design.
We stand behind our work, serving our clients with integrity, responsiveness, and creative thinking.
Our only business is providing objective analysis and advice. We do not ask clients to accept limits on our liability for the quality of our work. Our advice serves only our clients' interests and will not be influenced by conflicts with other corporate alliances, outside advisors, external oversight entities, or between management and labor.
Cheiron was founded in 2002. We are proud of our history, and excited about our future. Our consultants average over 22 years of experience, and have a reputation for quality, innovation and excellence.