Cheiron: A Small Community Filled with Big Personalities
By Chris Ludwiczak
I started my journey with Cheiron straight out of college, and I haven't looked back since. From the start, I've been fortunate to wake up consistently looking forward to work. It's inspiring to regularly work on projects that help strengthen the benefits for public and union workers across the country.
I decided during my final year in college that I wanted to live in Charlotte, NC, and centered my job search on this basis. Luckily, Cheiron chose to interview me before I even knew it had an office there. As I continued interviewing with other firms and researching all my options, nothing quite came close to the opportunity at Cheiron. I accepted a deal with Cheiron in which I spent my first year working at the company's headquarters in McLean, VA, before moving south to Charlotte. Having now worked in multiple offices while collaborating daily with others in San Diego, Chicago, New Jersey, and other locations, I can attest that the company culture exists nationwide as one surprisingly cohesive unit.
At Cheiron, we all have flexible schedules to work around life and families outside the office. Inside the office, it is a small community filled with big personalities. It's a place where every colleague can challenge you intellectually on a daily basis, making both of you better at your jobs for tomorrow.
What I like most is that there are no corporate ladders to climb at Cheiron; you are working with the board of directors within your first month and are provided nearly unlimited opportunities to grow through both your exam results and quality of work. This is far removed from the more typical approach which is centered around "waiting your turn." When you are routinely working to solve some of the most complex problems with sophisticated solutions, there's no time to wait your turn.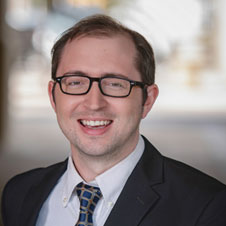 About Chris Ludwiczak
Associate Actuary, FSA
Chris is a Fellow of the Society of Actuaries. He holds a B.S. in Actuarial Science, summa cum laude, from Robert Morris University.