Ryan Benitez, ASA, MAAA Associate Actuary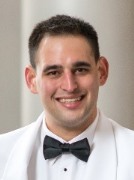 Ryan Benitez joined Cheiron in July 2012 after graduating from the University of South Carolina. With experience primarily in the employee benefits arena, he has served as the project manager for clients that include government employers at the Federal, state, and local levels, Taft-Hartley funds, and private corporations. Ryan specializes in health and welfare benefits and has experience managing actuarial funding valuations, GASB disclosures, medical claims analysis, health expenditure projections, benefit change pricing and plan design studies, experience studies, benefit statements and calculations, government filings, and contribution rate analysis.
Ryan is an Associate of the Society of Actuaries and a Member of the American Academy of Actuaries. He is working towards a Fellowship in the Society of Actuaries in the Group and Health Track.
He graduated cum laude from the University of South Carolina with Honors from the South Carolina Honors College with a Bachelors of Science in Mathematics and Statistics with emphasis in Actuarial Mathematics and Statistics.
Click here to contact Ryan Benitez.