Elizabeth Wiley, FSA, FCA, MAAA, EA Consulting Actuary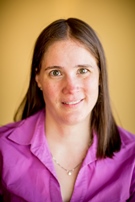 Elizabeth Wiley joined Cheiron in March 2013 and has over 12 years of actuarial experience. Prior to joining Cheiron, Elizabeth was a Consulting Actuary with Rudd and Wisdom, where she reviewed and certified actuarial valuations and experience studies for public pensions and public postretirement medical benefit plans.
Elizabeth's experience includes:
Preparing and reviewing GASB disclosures for public plans
Designing, drafting, and implementing plan provisions including studies of impact and costs including collaboration with legal counsel and administrative staff
Presenting and moderating trustee educational conferences, new trustee training for actuarial component, and presenting reports to both boards and memberships of client funds
Extensive collaboration with clients' other vendors including trustees, administrators, attorneys, investment managers and trustees
Preparing individual benefit calculations and projections
Providing analysis and client support regarding relevant state legislation as well as ERISA and IRS regulations
Developing valuation sensitivity analysis and asset/liability projections
Providing actuarial audits of large public retirement funds including technical review of the actuarial work of the retained actuary and communication of the findings
Analyzing options, developed possible new plans and assisted in implementation of transition from a flat dollar defined benefit plan to a salary based defined benefit plan
Performing actuarial analyses of proposed legislation
Elizabeth is a Fellow of the Society of Actuaries, a Fellow of the Conference of Consulting Actuaries, an Enrolled Actuary under ERISA, and a Member of the American Academy of Actuaries. She has a Bachelors of Arts in Economics and Psychology from Austin College and an M.A. in Actuarial Science from the University of Texas.
Click here to contact Elizabeth Wiley.