Christian E. Benjaminson, FSA, FCA, MAAA, EA Principal Consulting Actuary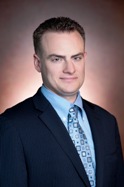 Christian has worked in the actuarial field since 1998. He joined Cheiron in April 2003 after working for Milliman for almost five years. Christian moved to New Jersey in June 2006 to open Cheiron's Philadelphia office. His experience is primarily with Taft-Hartley plans.
The consulting and actuarial profession gives Christian the opportunity to use his problem solving skills to develop unique solutions to common problems. Christian is heavily involved in the programming and development aspects of Cheiron's interactive tools. These tools are extremely helpful in communicating complex actuarial issues in a way that is easily understood.
Christian has been involved extensively in all aspects of defined benefit pension plan consulting at Cheiron. He has performed standard actuarial valuations; prepared annual Form 5500 Schedule MB filings, benefit calculations and individual benefit statements, performed experience studies, reviewed plan documents and amendments, consulted on requirements under the Pension Protection Act of 2006 and the amendments made by the Multiemployer Pension Reform Act of 2014, prepared withdrawal liability calculations and impact analysis, and consulted on plan design and cost. In addition to conventional actuarial services, he has extensive experience analyzing in real-time the likely long-term impact of various contribution and plan changes for collectively bargained multiemployer plans. Christian has also assisted in several OPEB retiree medical valuations.
Some of his recent projects include:
Analyzed whether Partition is a viable option for several Funds.
Assisted in the development of a projection model for several multiemployer plans to aid in the recent funding crisis.
Assisted in the development of Funding Improvement Plans and Rehabilitation Plans.
Analyzed withdrawal liability methods and alternatives.
Developed a secure benefit calculation program for a client's internal use.
Christian graduated cum laude from St. Mary's College with a Bachelors of Arts in Mathematics. He is a Fellow of the Society of Actuaries, a Fellow in the Conference of Consulting Actuaries, an Enrolled Actuary under ERISA, and a Member of the American Academy of Actuaries.
Click here to contact Christian E. Benjaminson.