Steve McElhaney, FSA, FCA, MAAA, EA Principal Consulting Actuary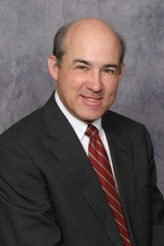 Stephen T. McElhaney, joined Cheiron in April 2009, and is a nationally respected public sector retirement consultant with extensive experience as an actuary for various state and local governmental retirement plans. Steve's background has included presentations before public retirement boards and legislative bodies, as well as presentations before public sector conferences and actuarial meetings.
Steve has been active within the Public Plans Subcommittee of the American Academy of Actuaries, as this subcommittee has addressed issues that affect public retirement systems. He presented the official view of the subcommittee regarding market value of liabilities to a Public Pension Plan Forum held by the Academy's Public Interest Committee in September 2008.
Steve also served on a task force established by the Governmental Accounting Standards Board during the time that it was developing Statements No. 43 and 45 for other postemployment benefit plans (OPEB).
Prior to joining Cheiron, Steve was a Principal with a large national benefits consulting firm where he served as national leader for its public sector retirement consulting in the US. This role included managing the activities of four public sector centers of excellence as well as being national coordinator for consulting related to GASB Statement No. 45. He also served on its national Professional Standards Leadership Team, which developed and monitored professional standards for all US employees.
Some of his more significant consulting assignments have included: Serving as lead actuary for numerous state and local governmental retirement plans; performing actuarial audits for more than ten state retirement systems, including systems in Virginia, Illinois, Ohio and Colorado; serving as lead consultant on numerous pension plan design studies--several of these studies included evaluation of hybrid arrangements as well as assessment of alternative defined contribution plans; assisting clients in implementing retirement choice for employees--the most significant of these assignments was serving as the lead actuarial consultant to the State of Florida when full retirement choice was offered to all state employees; and serving as primary retirement actuary for over 20 GASB 45 valuations for various state and local governments.
Steve has been active within actuarial professional organizations and currently serves on the Board of Directors of the Conference of Consulting Actuaries and, as previously mentioned, the Public Plans Subcommittee of the American Academy of Actuaries. He previously served on the Conference's Annual Meeting Committee and chaired that committee in 2007.
Click here to contact Steve McElhaney.